Michael Smith Excavating & Septic Systems LLC


Locally owned and established in 1970, Michael Smith Excavating & Septic Systems has been providing our services to Middlesex County, NJ, Monmouth County, NJ, Mercer County, NJ and the surrounding areas for over 40 years! We provide installation and repair service for septic systems, as well as excavation for residential or commercial businesses.
Septic Expertise and Superior Work

Your septic system isn't something to take lightly. Even the smallest problem could have big consequences, which is why it pays to trust experienced professionals with its care and maintenance. When you need work done or a comprehensive septic system inspection in Middlesex County, NJ, Monmouth County, NJ or Mercer County, NJ trust none other than Michael Smith Excavating & Septic Systems for a thorough, experienced approach and a job well done. No matter what your system needs or the scope of the job, we're on hand to provide the services you need to keep it in full, proper working order. From the design to the installation, maintenance and beyond, we're your complete resource for septic work.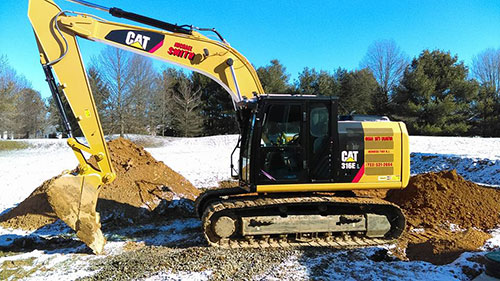 When it comes to septic system repair in Middlesex County, NJ, Monmouth County, NJ and Mercer County, NJ our abilities are comprehensive. Whether there's a problem with your sewer connection, drainfield, water line or anything else, know that we're here to pinpoint it, fix it and keep the problem from coming back. We even offer excavation services for larger projects and can excavate and grade land based on your unique needs. With a focus on dependability and a penchant for getting the job done right the first time, you'll never need to call another septic contractor. Take a look at just a few reasons our long list of satisfied customers keeps on growing:
We are certified septic professionals (Cert. #477)
We're members of the New Jersey Septic Management Association
We've been a locally-owned and –operated business since 1970!
We offer free estimates to all potential customers!
We specialize in all forms of septic system installation, maintenance and repairs.
We are fully licensed and insured.
Get a Free Estimate Today
If you require septic services, contact us today for information about our abilities and for a free quote. We're happy to provide you with upfront information to ensure you're getting what you need.
Areas Served
We offer the best in excavation and septic systems service in Monroe Township, NJ and our neighbors in:
Cranbury, NJ
Dayton, NJ
East Brunswick, NJ
East Windsor, NJ
Englishtown, NJ
Franklin Park, NJ
Helmetta, NJ
Hightstown, NJ
Jamesburg, NJ
Kendall Park, NJ
Millstone Township, NJ
Kingston, NJ
Manalapan, NJ
Millhurst, NJ
Milltown, NJ
Monmouth Junction, NJ
New Brunswick, NJ
North Brunswick, NJ
Old Bridge, NJ
Parlin, NJ
Perrineville, NJ
Plainsboro, NJ
Princeton Junction, NJ
Roosevelt, NJ
Sayreville, NJ
South Brunswick, NJ
South River, NJ
Spotswood, NJ
Tennent, NJ
Freehold, NJ
West Windsor, NJ